In a Nutshell
As a self-proclaimed sapiosexual who knows her Myers-Briggs personality type (INFJ) and Enneagram (4w3) results by heart, I find intelligence an incredibly attractive trait in a partner. I'm not too concerned with my partner's level of education, but his daily habits, personality, and the way he conducts himself in a relationship must be aligned with my needs. EliteSingles provides all of that information along with various other features.
pros
Matches based on personality test
85% of members are university graduates
Profiles are manually verified
cons
No free search on the database
Members must pay to see photos and get matches
Time consuming signup process
EliteSingles Visit Site
Video Review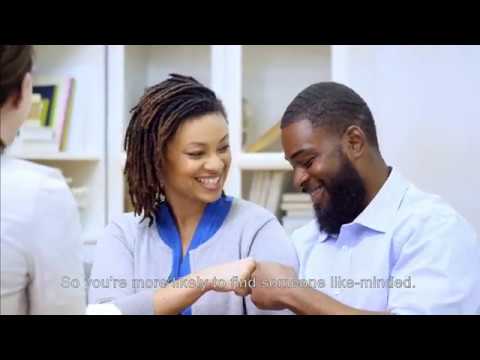 EliteSingles at a Glance
Best for: Educated professionals interested in a serious relationship
User base: University graduates
Number of members: 13 million, with 165,000 new members every week
Recommended age: 35-55
Favorite features: 5-factor personality assessment test & the ability to "like" specific sections of a profile
Signup Process
Signing up to EliteSingles will take around 30 minutes. After filling out basic information, you'll be asked to complete a personality test.
The signup process consists of a personality assessment that aims to measure your personality across 5 different dimensions:
Openness: Are you open to new challenges and thinking about abstract concepts?
Conscientiousness: Do you prefer a set schedule and to finish important tasks right away?
Extraversion: Do you like being the center of attention? Do you have a wide social circle of friends and acquaintances?
Agreeableness: Are you concerned for others? Do you enjoy helping others and contributing to their happiness?
Neuroticism: Do you get upset easily? Do you feel anxious a lot and worry about a lot of different things?
To be quite honest, there were WAY too many questions that you're required to answer when you originally sign up for the app. There are literally more than 100 questions (115 to be exact), but the results were well worth it.
The test is based on contemporary psychology which asserts that there are 5 basic dimensions of personality, termed the "Big 5" personality traits. Due to the variety of questions, the signup process is relatively time consuming. However, EliteSingles needs this information to suggest matches that are highly suitable. Your curated matches are very closely paired with your answers to those questions so your odds of finding the perfect partner who meets your relationship and intelligence needs are high.
As you proceed through the questionnaire, you'll get more detailed statements so the system can gain an understanding of your personality:
I often leave clutter in my room.
I'm good at analyzing problems.
I stand up for myself and my interests.
I'm easily discouraged.
I often waste my time.
I like order and regularity.
I have little patience.
I grasp situations quickly.
I like to do nice things for other people.
I always seek adventure.
Applicants are asked to rate their answers according to the following sliding-scale measurements: doesn't apply at all, slightly applies, completely applicable.
Some applicants may be deterred by the complexity of the forms and rush through them without taking the time to make sure the information is accurate. This can also affect the suitability of the matches you are offered.
Matchmaking & Search Functions
EliteSingles' matchmaking brings you highly suitable matches based on results of the 5 Factor Personality Test. As mentioned, the test identifies your key personality traits along with chances for long-term compatibility with other members. For instance, in addition to identifying whether you prefer tidiness, you're also asked how important this trait is in a future partner. Once the site finds demographic and personality traits to be a match, it suggests members to one another.
The job titles of the matches you're given are all extremely smart and successful, including but not limited to research scientists, molecular technologists, and engineers.
In addition, paid members can browse additional profiles through the "have you met" feature. This feature introduces members who may not have appeared in the usual daily matches.
Finally, "wildcard matches," similar to the swipe function on other popular dating apps, present you with blurred photos as well as the name, age, location and full profile of members. Shared traits are highlighted to help you make a decision on whether to accept or pass on the match.
Features & Communication Tools
EliteSingles' most impressive feature is its matching algorithm, relying on the detailed personality test to identify over 29 personality traits and match you with users who would value these traits. The careful matchmaking ensures an efficient online dating experience, perfect for busy professionals.
The profile is another area in which EliteSingles shines. On your dating profile you'll find the results of your personality test, and you can include as much or as little information about yourself, your interests and your hobbies as you'd like. EliteSingles even has expert profile advice available if you need a bit of support standing out from the crowd or crafting a strong profile.
You can add up to 24 photos to your profile, which is much more than with most dating sites. While you don't have to add any photos, EliteSingles recommends that you do, as profiles with at least 1 quality image are 8 times more likely to be contacted.
You can "like" specific parts of someone's profile to show interest and start an interaction. This helps break the ice and lets you ease into conversation on a specific topic. All interactions are recorded in the message area. Other communication tools include inbox messaging, sending "smiles," and 5 ice-breaker questions.
The site also includes insights and tips from relationship experts and psychologists to help guide you through the dating process and craft the perfect profile.
EliteSingles Love Stories
"Looking back, Shirley remembers how fast it all seemed, 'Malcolm decided we were meant to be together within about 2 weeks of us emailing. It just took me a little bit longer to believe that it could be real.' As it turns out, Malcolm was right. The pair got engaged within 6 weeks of their first meeting. Malcolm remarks at how a chance match led him to Shirley." - Shirley and Malcolm
"It seems EliteSingles gave fate a much-needed nudge as Tina and Adam discovered they only lived 7 minutes from each other. So, they met at a favorite local restaurant… At dinner, Tina could see that they had a lot in common and it was obviously a roaring success... as Tina herself says, 'every day since then has been magical." - Tina and Adam
"Enjoying many similarities, John and Cindy connected via shared content on their profiles. Although they initially connected online with EliteSingles, their chemistry grew quickly… At the foundation of a lasting relationship is friendship, and John and Cindy shared this special connection." - John and Cindy
Safety & Security
EliteSingles is concerned with users' online safety and the protection of personal information. The site uses an online verification feature to ensure profiles and photos belong to real daters. In addition, the site employs software which ensures no photos can be copied or downloaded from the site.
Other security features include an SSL-secured website for protection against credit card fraud. EliteSingles also employs methods to prevent harmful or offensive messages by alerting the site of the use of certain keywords. Users can report abuse and delete matches they deem inappropriate. All sensitive data is encrypted and will not be shared with third-party sources or other members.
How Much Does EliteSingles Cost?
EliteSingles offers a free basic membership that lets you build a profile, take the personality test, and send smiles and likes to potential matches. If however, you want to take full advantage of the site and start communicating with other members, you'll need to upgrade to a premium membership.
With an EliteSingles premium membership, you can:
Send and receive an unlimited number of messages
See all your matches' photos
See who recently visited your profile
Leave comments on profiles and photos
Get additional insight into your personality test results
The premium subscription also gives you unlimited access to features like the 'Get Acquainted' tool, which allows you to choose 5 multiple choice questions to send to another member. In response, you'll receive the 5 questions they're most interested in hearing your answers to. This is a great way to break the ice and get chatting with people.
Here's how the EliteSingles cost structure breaks down by month:
Free Trial
EliteSingles offers free registration for members so you can get to know the site before committing to a paid package. Here's a breakdown of what you will and won't get with an EliteSingles free trial.
What you can do with a free trial:
Build a profile and upload photos
Complete the personality test
Receive partner suggestions
Send smiles and likes to a potential match
Explore the site and use all features
What you can't do with a free trial:
Send messages to other members
**The free plan is limited, with the ability to sign up, post a photo and create a profile while receiving 3-7 matches a day. It also includes the option to send ready-made questions to users.
EliteSingles Visit Site
Help & Support
The customer care team validates the identity of profiles, and also offers a detailed online help section available to users. You can contact customer care at any time through the email services provided on the site.
Find Love on EliteSingles
I've always said that I wanted to develop an app for sapiosexuals and nerds, but I suppose it's already been in existence and I just didn't know it yet. EliteSingles is definitely a viable dating app for anyone who needs someone to stimulate their mind and hold a decent conversation aside from what the weather is like and how your day was. EliteSingles sends you highly relevant matches based on your personality and preferences, cutting out wasted time looking through thousands of profiles. If you're looking to connect with someone special, it's worth giving EliteSingles a go.