In a Nutshell
eharmony uses a scientific approach to matchmaking to connect compatible singles and cultivate long-term relationships. With a series of questions to new members, eharmony collects data to make matches that are statistically likely to succeed in a long-term relationship. It's hands down one of my top 3 favorite online dating apps Iv'e tried, for so many reasons.
pros
Patented compatibility test
Intuitive and well-designed profile
Extensive safety features
cons
Suitable for commitment-minded singles only
Lengthy signup process
eharmony Visit Site
Video Review

eharmony at a Glance
Best for: Anyone looking for a serious relationship
Number of members: Over 10 million users
Recommended age: 25+
Favorite features: Personality-based matchmaking & identity verification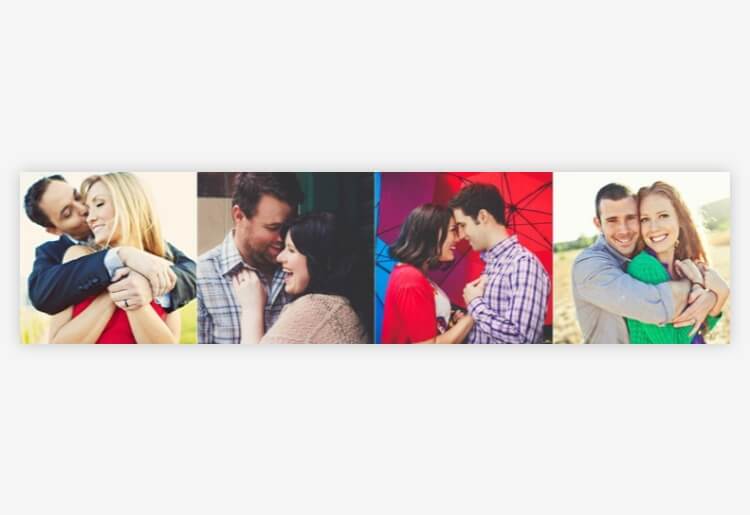 Signup Process
First and foremost, I absolutely LOVE that they have a "freelance writer" title in the job occupations dropdown list. And, as somebody who throws around the word "grateful" on the regular, I also really enjoyed the "What are you grateful for?" writing prompt where I was able to list 3 of the many things for which I'm grateful (one of which included "way too many things that I can't list on this app"). I also thought that the relationship questionnaire was way more fun than the tests on other apps, and the curated matches I received based on my answers to those questions were VERY appropriate.
The personality questionnaire is the core of eharmony's scientific matchmaking process and the longest part of signing up. While the questionnaire is lengthy, with over 400 questions to answer, it is well worth it to take this step seriously.
There are a few different types of questions. Most take only seconds to answer, while others need a little more thought. You can choose from preset options to declare your education, employment, religion and physical attributes, and then go on from there to some more probing questions. These are innovatively designed to uncover layers of your personality and involve ranking yourself by descriptions or adjectives on a scale. Once this section is complete, the free writing questions are a good opportunity to share more about your interests and passions.
The next step is dedicated to describing the ideal match, including deal breakers and expectations in both physical appearance and lifestyle choices. All of the information given will be used to scientifically find each user the most compatible matches from the millions of singles on the website. In addition, the Book of You, which is based on the personality questionnaire, lets members discover even more about themselves.
The signup process is lengthy, but it should be taken seriously, as the more information you provide about your personality and about what you're looking for, the higher the likelihood of finding a suitable match.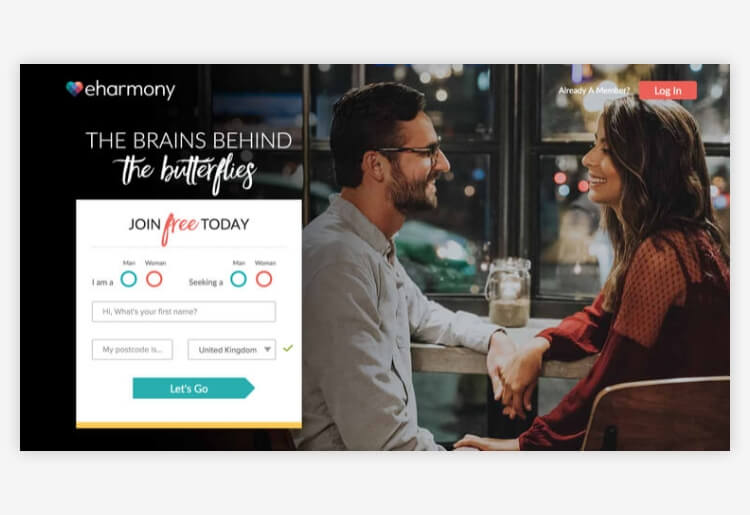 Matchmaking & Search Functions
eharmony's unique matching system is what distinguishes it from similar services. After completing the personality quiz, eharmony's trained experts will match members based on 29 dimensions of personality and compatibility, and according to its own scientific and mathematical algorithms. Matches are sent out directly to each user's inbox on a daily basis. You can look at a photo and profile and then decide whether to get in touch. At this point a paid subscription package is needed.
Instead of giving users the ability to look through profiles using search terms or keywords, eharmony does all of the hard work and in fact there is no option of conducting a manual search. While this takes away the element of control, it can also be a relief to sit back and let someone else do the work.
You can mark certain questions of the personality quiz as "very important" and will be better matched to like-minded singles. This is especially important for religious singles who are looking for someone with the same denomination.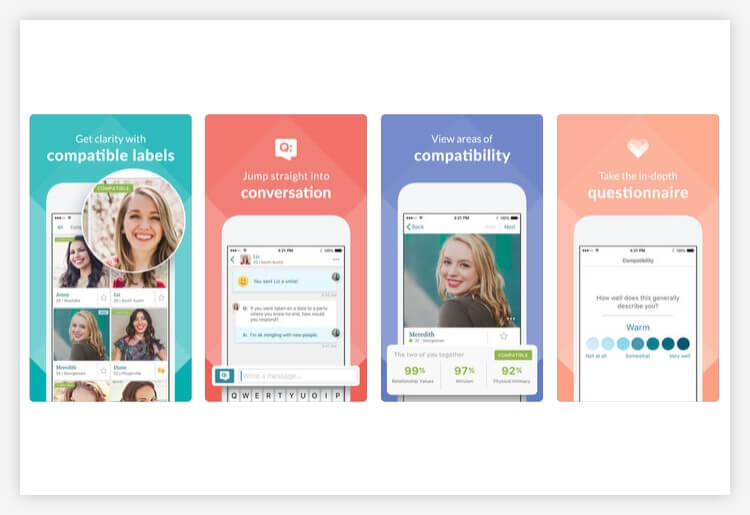 Features & Communication Tools
After completing the personality profile, members can improve their profile by adding interests and hobbies, as well as further information about what they are looking for. The profiles are laid out in a beautiful way, kind of like a social media account, except it's a dating site and not Facebook or LinkedIn. Beautifully designed, the profile can be an excellent first impression.
The paid subscription memberships unlock communication tools, such as regular inbox messages and SecureCall, which is a secure phone line that lets users chat safely without disclosing their phone number. Moreover, "RelyID", which lets members verify their identity, helps other users to feel safe when contacting them.
Paid memberships also include the ability to see who viewed your photos and profile, send and receive unlimited messages and check out the advice forums for all the best relationship tips and tricks from the experts.
Another great feature is the guided communication, which helps to get a conversation started with a crush. The "What-If" service allows singles to browse additional profiles and take some more control over their dating experience.
In 2009, eharmony launched CompatiblePartners, its own dating site catering to the LGBT community. Although the name is different, the concept is the same and CompatiblePartners aims to match lesbian and gay singles looking for serious relationships with other singles who match their personality based on the same personality questionnaire used by eharmony.
Eharmony Love Stories
"I had met one person on eharmony and knew it wasn't the right match. I was going to let my membership expire and not do anything else with it when Noel initiated our first contact. I knew from the first e-mail that I had met someone amazing…From the moment I saw Noel, I knew she was the one. Now, a year and a half later, we're planning our wedding. We are immensely happy and so grateful that eharmony brought us together." - Noel and Mark
"Bill and I are very deeply in love with other. We turned out to be more than we ever expected for each other. Not that we had low expectations because I'm very picky and he had a clear idea of what he was looking for too, just that we're so compatible it's uncanny. We fit together naturally and it feels like we've known each other forever." - Sarah and Bill
Safety & Security
Safety is a priority for eharmony and its model does not leave much opportunity for scammers or online hackers because of the in-depth signup process
Eharmony wants to ensure that all users experience maximum comfort, and provides a comprehensive safety document accessible from the website. This details how to keep personal information safe online, how to spot anything suspicious and report it immediately, and how to keep safety first when meeting someone from online.
Additionally, the "SecureCall" system protects users' phone numbers until they are ready to talk off platform. The ID verification system cuts down on the amount of imposters in the system, ensuring users can trust that profiles belong to real singles. In order to receive eharmony mail messages, users have to mutually agree which gives users complete control of communication with each other.
Pricing
This dating app is super cheap, which is fantastic for a thrifty single gal like me. However, you basically need to purchase a paid subscription because you can't see user profile photos unless you upgrade your account.
Prices for eharmony are split by packages. There are free accounts which do not include most features. Users who sign up for the Basic membership will be able to view matches and message them. However, features like "RelyID", "SecureCall" or the "Premium Book of You" will only be available for users with a Total Connect membership.
eharmony Visit Site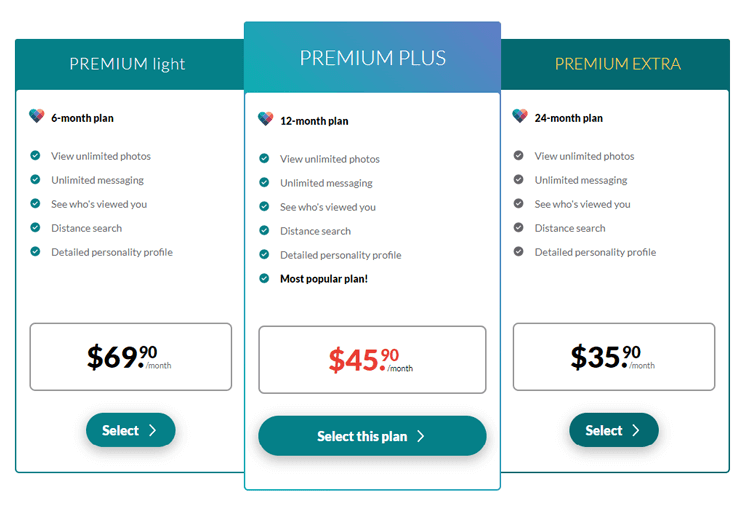 Help & Support
In comparison to other online dating websites, eharmony does a lot better when it comes to support. It offers customer support via email which is manned 24/7 to answer any question, as well as a dedicated phone line during working hours and on Saturdays. This makes it a great choice for those who want the option of human trained support at the end of the line. The FAQ section is extensive and a great option for autonomous troubleshooting.
Find Love on eharmony
The focus of eharmony's services is building long-term relationships by finding compatible matches for each member. Security features are in place to make sure users do not get catfished and to protect any personal information. While relatively pricey compared to other dating sites on the market, we highly recommend eharmony for singles looking for a lasting relationship.