So how do you make profile stick out from the crowd? Here's what you can do — because it's so much easier than you think.
1. Pick the Right Photo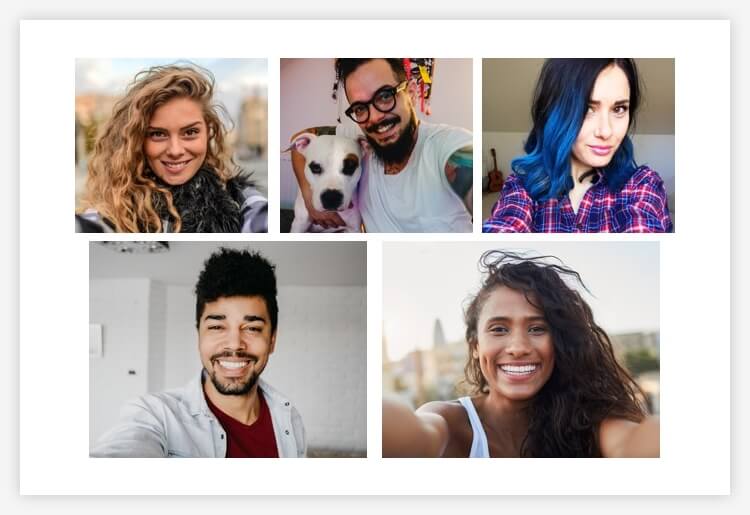 Even on a site that's less swipe-heavy and more about the whole profile, like Zoosk, the photos are the first thing anyone looks at. Data from Zoosk shows that people who wear sunglasses get 63% fewer messages - most likely because they hide your identity and make it harder for others to relate. The same logic applies for hats, group shots and any photo that's too zoomed out.
Here are some other do's and dont's brought to you by Carmelia Ray, an online dating expert with years of experience matching single.
Do smile. The era of the duck face is over. Smiling increases the odds of getting noticed by 45%. An angry face turns off 12% of potential suitors.
Don't pose with friends. Definitely don't appear with friends in the main photo. Users get frustrated if they have to decipher which person they should be looking at. And hey, what if they prefer your bestie?
Do place the best photo second. Wait, what? That's right, research shows that when the best snapshot is put as the main image, singles will lose interest once they click further. That confidence boosting, money shot should be placed as #2.
Bonus tip: Zoosk found that narrow photos, where it looks like you've cut out your ex, perform the worst — while full-body photos get 203% more incoming messages than the average, and 33% more responses to their outgoing messages.

Zoosk Visit Site
2. Craft a Clever Intro - And Be Yourself
Most profiles leave space to include a header or short greeting. Avoid clichés or generic lines such as, "Can't believe I'm on a dating site" or "Love to travel." What does that really reveal?
Use this opportunity to showcase some personality.
For those who know how to make people smile, try something funny. Not you? Share a quote from someone you respect and admire. It can also simply be something that really resonates with you. Or try an interesting fact or ice-breaker to get the conversation started.
3. When Looking for Love, Keep it Real
We all know the saying, "honesty is the best policy." Then why do 80% of online dating users admit to stretching a few truths in their profile and even their photos? Sure, we've all benefited from a well placed Instagram filter, but the line has to be drawn somewhere.
Match surveyed its users and found that transparency was one of the most important elements in a budding relationship. Most agreed that they would cancel a date if they found information online which contradicted what they'd seen on the site.
Just keep things honest, for everyone's sake.
Bonus tip: We can't mention this enough - if you're a woman on a dating site, make the first move please! In its annual "Singles in America" survey, Match asked men, "How would you feel if a woman asked you out?" Ninety-five percent of men said they would be happy to have a woman ask them out. Yet, only 13 percent of women would be willing to do that. Ladies take charge

Match Visit Site
4. Stand Out by Sharing Interesting Details
Your profile is your chance to tell other users what sets you apart.
It's all about increasing the likelihood of finding common ground. Take the following two examples:
"I love travel and cooking, have a bit of a wild side and adore my family to pieces… I just got back from Australia with my sister. Check out the pics of us on our outback adventure!"
Most people love to travel, but there's a world of difference between visiting the Australian Outback and sitting by a pool in Miami. A "wild side" might mean something different to each reader as well. Being specific can help users find common ground, while generic clichés will make them lose interest.
This example also encourages singles to take another look at the photo section, spending more time on the profile page. Clever, huh?
Making it easier for people to relate doesn't necessarily mean making it personal.While it is hard to reply to "I love pizza," something more specific like, "I am obsessed with the mushroom and artichoke pizza from Sal's Pizza on First St," leaves more room for response. It may even end up being the perfect location for a first date.
Ready to take try these tips out first hand? Head over to Zoosk today for better dating in 2022.